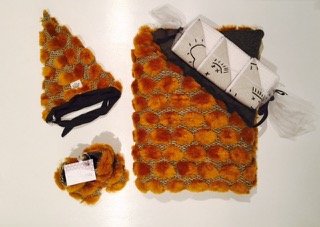 When an awesome children's retail shop and an amazing brand get together they inevitably create something awesome. Bringing Up Baby of Boston and Nina Luna Dreamers have hooked up to create a super sweet GIVEAWAY opportunity for all of you baby layette and awesome-ness lovers out there!
Bringing Up Baby of Boston is a children's retail shop in the heart of Boston, Massachusetts that celebrates the magic of childhood. They source the most special, unique products in the marketplace (such as Nina Luna Dreamers!) for your child(ren) - from clothing, toys, gear, shoes, books + even home decor - with your delight in mind. Nina Luna is a timeless children's wear brand that sources the finest materials from Italy. These luxurious Italian fabrics create the best-of-the-best clothing for children so they can be cozy, classic and in-style all at the same time. The Nina Luna label creates what Bitsy would consider "hand-me-down" pieces. Very special and long-lasting.
So, are you a new mom? Expecting? Or know someone special in your life that has had or will be having a baby?! If so, get on this giveaway train...
Here are the details on this generous giveaway and how to enter:
Bringing Up Baby and Nina Luna Dreamers are offering a chance to win one of three amazing layette sets (pictured above) which includes a blanket, signature hat, matching booties, burpies + pacifier holder (value of $425-!). All you have to do is follow Bringing Up Baby on Instagram (@Bringingupbabyboston) and direct message them your name and email information any time from now until December 1st and you will be entered! Winners will be announced Thursday December 1st at the South Boston Holiday Stroll. You do not need to be present on December 1st to win/collect your prize. Bringing Up Baby will be in touch with the winners via email.
Okay, you heard it here! Now go hit up Bringing Up Baby Boston + Nina Luna's outrageous giveaway contest!!!!
Some pics from Bringing Up Baby Boston in case you aren't local and would like a tour...
*Photo Credit: Bringing Up Baby