Most of you probably know about the wonderful Sun-San Salt Water Sandals. These sandals have been around forever – I wore them as a toddler and now my daughter wears them. They have stayed true to their classic roots while also dipping into some funky trends for children and adults alike. You should know by now - Bitsy loves this theme! These sandals are functional (can be used at the beach IN the salt water!), practical and very decently priced. Lucy wears hers with dresses, jeans, shorts, skirts, cover-ups & bathing suits. I usually buy them for her in time for our April vacation and they run her through the end of September…literally.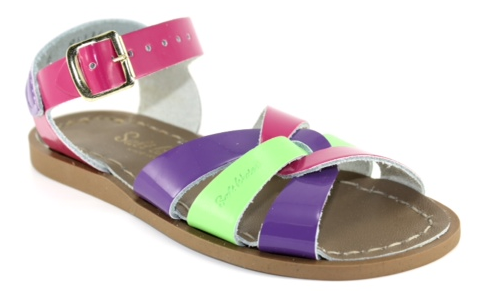 Last year I saw a funky new trend pop into the world of Sun-San…a fun color mash-up. One pair of sandals rocking 2-3 different colors to add some spunk to one's wardrobe! Of course I had to look into this for my Bitsy readers. The website I always order Lucy's Sun Sans from is www.mysaltwatersandals.com. The lovely minds behind their inventory hooked me up with their color combos for this season…see below. Chin up - just another reason to get excited for the warmer months ahead!
*They have lots of other options as well - like solids + patents if you want to keep things simple!
*Photo credit, My Saltwater Sandals